We have just released the latest update to Trados Enterprise Translation Management capabilities, and we would like to share the new functionality that has been delivered.
New features and updates are automatically added to your account so just login to Trados Enterprise and they will be available immediately.
Online Editor enhancements
Document Structure Info side pane
We have now introduced a Document structure information (DSI) side pane in the Online Editor. This enables you to see additional context while translating, which is especially common with DITA, custom XML, Passolo SLDLXIFFs or Bilingual Excel files.
Previously you had to click the column so it was not possible to work while displaying context information. With this new pane it can always be open on the side or in another window, so context is always readily available.
Add/Edit Comment Smart Action
Building on the recently introduced Smart Actions functionality, we have now added a Smart Action to enable you to easily add/edit comments without having to use your mouse.

Number of characters in selection is displayed in the status bar
Another enhancement is that we now display the number of selected characters in the status bar of the Online Editor.
Improved CTRL+Del and CTRL+Backspace functionality
We have improved the way these two shortcuts work, to align more closely to Microsoft Word functionality.
CTRL+Del will now also delete commas and full stops, while CTRL+Backspace will no longer delete commas and full stops.
Terminology: Copy Entry
We have added functionality to allow users to copy an entry, which can be either the full entry with all term text, or alternatively a copy with just the fields. This makes it simpler to create multiple similar Terminology entries.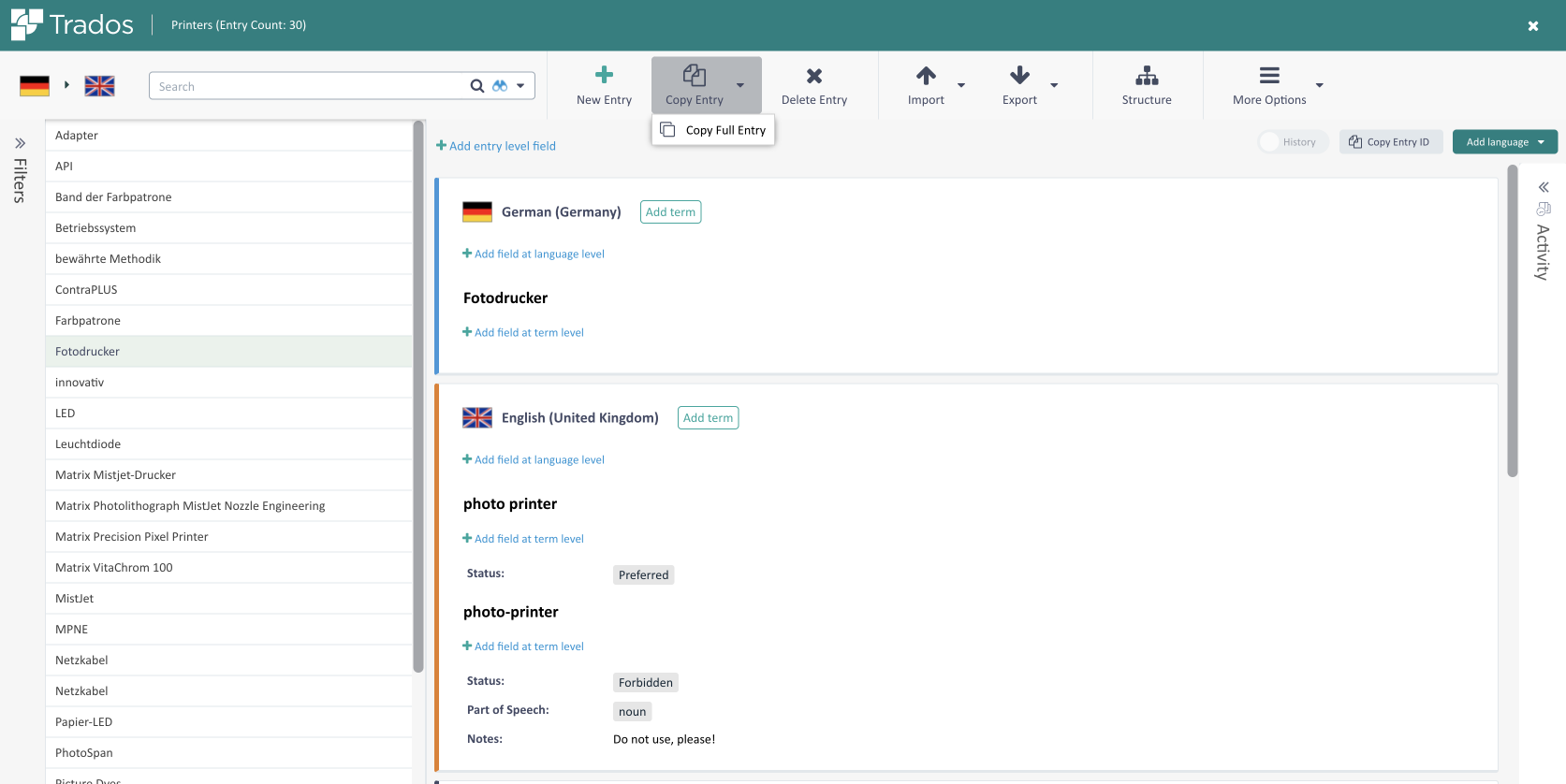 Project Grouping enhancements
We have introduced the ability to choose the outcome of tasks and enter a closing comment when completing tasks in bulk

You can now reschedule as part of task reassignment in a single step

We have added a checkbox to display only users with a matching service type (task type, source and target language)

Additional details are now available from the Project Group Details and List views

We have introduced additional filter options

when viewing Project Groups
Customer Portal Enhancements
Files for Review Side pane
We have introduced a new side pane when clicking on a task from the Files for Review page in Customer Portal. The side pane is used to good effect in various parts of the Trados Enterprise interface. This first implementation of the side pane in Customer Portal helps draw greater consistency between the two interfaces and allows us to expose additional details in Customer Portal that were not previously available from the list view. As an example, the Project Description field which wasn't previously visible from the File for Review page, is now displayed from the side pane when clicking on a specific task.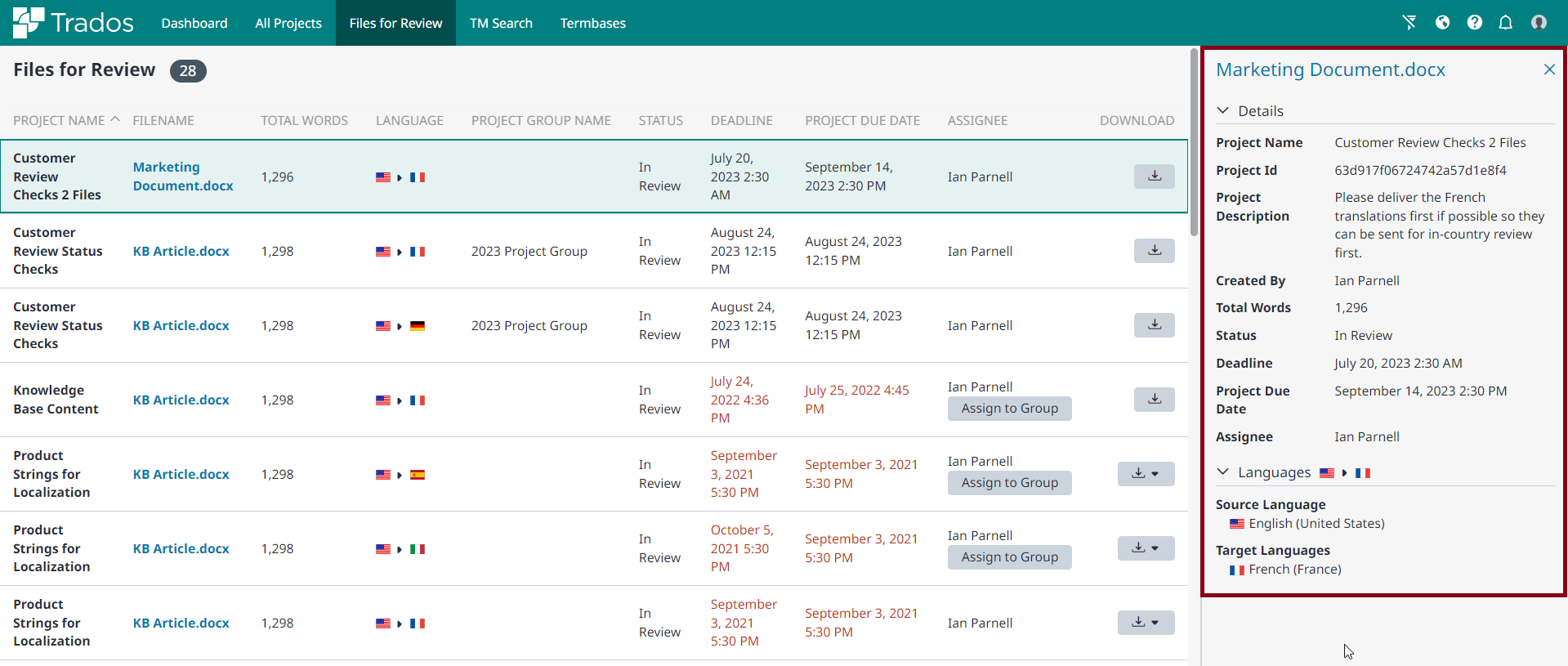 Data Export enhancement
When entering a custom date range for the Data Export, it is now possible to select from the 1st of January of the previous calendar year. The maximum period that can be selected for a custom date range is still limited to 12 months, but this latest enhancement allows users to perform an export including projects creating during the previous calendar year in its entirety. Previously, it was only possible to select a custom date period starting from 12 months prior to the current date.
Announcement of change to PDF conversion technology in Trados Enterprise
From Monday 13th March 2023 onwards, Trados Enterprise uses a new mechanism and underlying technology to convert PDF files to translatable format in translation projects.
Our stance and recommendation is still to use the original file format as possible, PDF should always be seen as a workaround to the situation where the original file cannot be made available. PDF does not lend itself to localization and creates a lot of extra effort during the process.

Your existing PDF File-type configuration will continue to work, however settings will change as follows:
Layout

- remains and existing setting will be remembered

Headers and footers

- no longer available, will always be extracted now

Detect tables

- no longer available, will always be extracted now

Image recovery

- no longer available, images are kept, but no text is extracted

Recognize PDF text

- no longer available, images are kept, but no text is extracted

New setting

Use alternative processing (better for non-Latin based languages)
While this new technology provides similar support as the previous one, and you should get similar results overall, we would like to point out a few limitations and potential solutions:
If you use Asian languages or other non-Latin based languages as source languages, we recommend that you tick the new checkbox

Use alternative processing (better for non-Latin based languages)

.

Support for scanned PDF documents using OCR (optical character recognition) is limited out of the box. If a PDF file contains merely a scanned picture of the underlying document, then the new technology will not be able to convert the document. If, on the other hand, the document is scanned but the text in it is selectable, then the technology will attempt to convert the characters within the document. You can test this in Adobe Reader, for example. If it's possible to select any text in the document, then the technology should be able to attempt to convert it.

If you need more advanced support for scanned PDF documents, we recommend the following options:

If you use Microsoft Word, you can use it's built-in PDF conversion - it accepts PDF files, including OCRed, for opening files and can save them out in Word .docx format which you can then process as normal.

Adobe Reader also has a built-in function to save PDF documents in Microsoft Word format, which can be purchased as a subscription.

Alternatively, consider purchasing a third party solution, such as Abbyy Fine Reader or Readiris, that can convert OCR'ed PDF documents to Microsoft Word format. These options are available as perpetual licenses or on subscription.

Trados has developed a new free app, PDF Assistant for Trados Studio, that uses a new and sophisticated approach to PDF conversion. PDF Assistant for Trados Studio is available on the RWS AppStore. In the first release, PDF Assistant for Trados Studio uses Microsoft Word behind the scenes to perform PDF to DOCX conversion, including its rich capabilities to handle scanned documents and documents in a variety of languages, including bidirectional and Asian. We have developed this app with extensibility in mind, so in future updates, we may integrate other conversion providers into the app. For more information on the new app, see

https://community.rws.com/product-groups/trados-portfolio/rws-appstore/w/wiki/6598/pdf-assistant-for-trados

.


Custom Reporting Enhancements
Custom Fields
We have made some changes to how Custom Fields are available when using the Custom Reporting module in Trados Enterprise.
Previously, it was necessary to join on the Custom Fields data table as part of data source configuration for a Workspace, but this implied a limitation whereby customers could only work with a single Custom Field for reporting purposes within a single Workspace.
With the changes made as part of this release, we have included a new field in the Projects and Customers tables called "Custom Fields" that contains all Custom Fields for the corresponding Project or Customer as a pipe-delimited list of name and value pairs. For example, if you have two project level custom fields in your project template for "Department" and "Cost Code", the value exposed via the new database field would contain "Department=Marketing | Cost Code=ABC123".
Date fields extended to also include the time
For the Custom Reporting module in Trados Enterprise, we expose the following fields that contain information corresponding to a date:
Task due date

Task start date

Task completion date
Previously, these fields were only available in the form of a date. In some cases, however, it is also helpful or in some situations even necessary, to also have access to the time when certain actions took place. There may be instances where a workflow task is started and completed on the same date, for example, so without also having access to the time, it would be impossible to determine the duration of that particular task.
As a result of the changes introduced in this release for Custom Reporting, some of the existing tables are now superfluous and are marked as deprecated in the Custom Reporting interface. Any existing Workspaces and Custom Reports already using these deprecated tables will not be affected and will continue to work in the same way as previously, but for new Workspaces and Custom Reports, we strongly recommend using the new approaches described in this release announcement. We will monitor activity in the coming months, and based on usage trends, may remove support for some or all of the deprecated tables, but this will be communicated with advance notice so customers can make any changes necessary prior to this being implemented.
API and Extensibility enhancements
API
We introduced fields displaying the project status history and the completedAt date for a task.

We exposed the project creator as a sorting option on list projects.

We fixed several bugs

We want to remind our users we will enforce validations listed in the documentation for the Create and Update Project endpoints.
For more details, see the What's new page in the Public API documentation.
Extensibility
We introduced requirements that become mandatory for all future add-ons, namely: acceptance of Terms & Conditions and the Privacy Policy, along with the provisioning of the add-on's release notes, documentation link and the developer's contact details, starting with descriptor version 1.3

We published newer blueprints for both Java and .NET

We made available headers for developers to implement custom functionality based on the current version of the installed add-ons: addonVersion, extensionPointVersion and extensionId

Added projectId, sourceFileId and targetFileId on the translate request
For more details, see the What's new page in the Extensibility documentation.
Additional changes
We have introduced a new column in Project list

displaying the Project Manager

Custom fields with hyperlinks as values are now clickable

Online Editor: TQA Comments are now shown even if not selected

Online Editor: Addressed issues with holding Delete/Backspace/CTRL+V keys

Online Editor: Resolved an issue around Insert Placeable not working in some scenarios

Online Editor: Fixed verification issues

Added an option to update Workflows when Workflow Template changes are introduced

Moved the 'Clear All' button when working with termbases to avoid accidental deletion of the the entire content

You can now copy assignment from one target language, to the same target language for all other source languages in Vendor Order Templates and Workflows

We have introduced restrictions when downloading the Analysis Report for large projects

PDF download disabled for projects with over 1,000 files

XML download disabled for projects with over 10,000 files

Various bug fixes and UX enhancements
We hope this post was informative and we look forward to continuing to provide you with updates to the product.
Trados Product Management