My colleagues are preparing various knowledge sharing sessions as we get ready for the Tridion Sites 9 release. These sessions are often called "boot camp" sessions, but might also be called workshops, delta training, or knowledge days.
I'm wary of advice such as "No Pain. No Gain." But in the case of software boot camps, what doesn't kill you can indeed make you stronger. Let me share my own experience with knowledge sharing sessions, offer some tips and examples to manage your own events, and point out what to expect in the next few months on the hike to Tridion Sites 9.
2011-to-Today
I've participated in boot camp sessions related to Tridion (Sites) at least annually since 2011. Looking back, I started as a new recruit and perhaps achieved drill sergeant status.
2011: Wide-Eyed Customer
I remember my first Tridion boot camp in San Jose which was a technical session run by Professional Services, promised by Nuno Linhares to be "messy." I was so new and impressed, it took me a few years to write up a post on the event system update. I've since learned we have other types of sessions from informal to partner events to delta training. I've had the pleasure of attending to even running a few of them.
2012: Joining a Bootcamp in Amsterdam
One of my most memorable boot camps by far was visiting Amsterdam to learn about the User Interface Update to SDL Tridion 2011 SP1, now known as Experience Manager.
Though I had some technical background, I struggled to keep up with the likes of Nuno and Mihai Cadariu at least on the installation.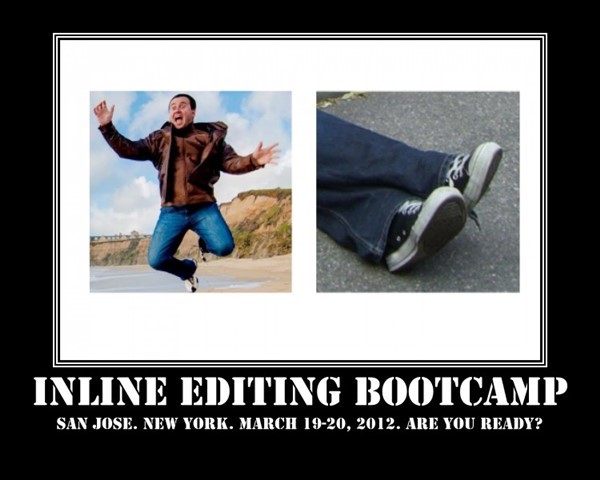 In those sessions, I felt like the person on the right.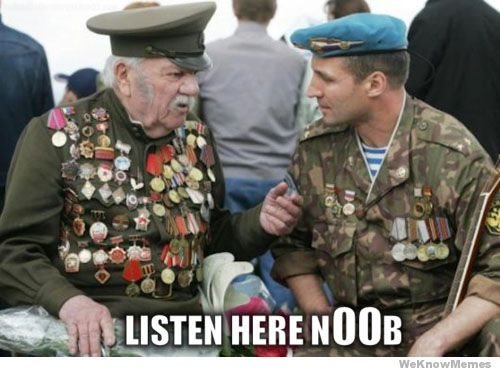 Source: http://weknowmemes.com/2012/01/listen-here-noob/.
Tips: If you feel over-your-head, try to keep up to understand the general idea and then come back to explore the details. Getting familiar and seeing what you don't know is just as valuable as nailing every exercise.

For those creating the exercises, I recommend testing the exercise before the session, offering good stopping points, and creating working examples of the expected results. It'll be hard if the final exercises rely on specific changes from earlier in the sessions--each exercise is better off as a self-contained module.
I loved the energy in the Amsterdam office and the behind-the-scenes peek at the future of the User Interface. Around the same time, I was appointed "Experience Manager" Subject Matter Expert (SME) and made sure I learned as much about it as possible, asking and answering questions about while writing several blog posts about the feature.
2013: More Products
Former colleague Ferdinand Lugo and I learned about more products in a 2013 boot camp. A bit less stressful, but it was my first introduction
Coincidentally, or perhaps intentionally, I now work in Amsterdam at the Tridion "Mothership," specifically on the future of the User Interface.
2014: Knowledge Sharing
Our past Knowledge Days weren't quite full boot camp sessions, but they often included knowledge sharing, technical deep dives, and the occasional exercise or icebreaker.
I coined the term "SDL Connected" for that session then later presented at SDL Connect and even later enjoyed being the Product Owner for the integration frameworks for Connectors. Yet another coincidence? Perhaps, but communication and planning fall under what I call teachable, learnable skills. What doesn't kill you makes you stronger.
I eventually helped present for the Web 8 session and was honored to help organize technical boot camps as part of Product Development.
2015-2017: Running Boot camps in Amsterdam
I was eventually able to apply everything I've learned as a boot camp attendee and event organizer to eventually co-plan the previous round of technical boot camps delivered by Product Development for SDL Web 8.5, where I told the group, "What, did you expect slides? This is a boot camp. If you end up having fun, well that was an accident."
But for the first time in awhile, I will not be at the internal technical boot camps. Rather I will be joining the sessions to explain the Tridion DX suite to partners.
Can you Share Boot Camp Details?
These early boot camps are a win-win experience involving an amount of trust. The common agreement I've seen and followed for sharing boot camp details, first introduced by Nuno Linhares, is that with the presenter's permission, you might share new features, ideas, and some examples from the session while keeping bugs within the sessions. This is meant to balance community sharing against software that's still under development.
In such posts, you'll want to explain the context and how others could try what you're showing and when. Your readers might read your content a while after a given release, not realizing things may have changed since your post. For example, you might preface a screenshot or code snippet with: "This is an example to perform _______ using a pre-released version of Sites 9. The final feature may differ from what's shown."
And as a courtesy, please give the vendor or presenter a chance to fix or address any issues you experience especially with pre-release software. Personally, I have seen the occasional bug from both an attendee or presenter side. And they always resulted in a fix before the actual release. Luckily, the majority of the boot camp-related sharing I've seen have been positive and on-topic, focusing on a given feature or release.
Note that this is distinct from paid training sessions, where the training material itself falls under the intellectual property of whoever created the course. In practice use your own good judgment but don't be afraid to share.
Next Steps: Your Own Event, Webinars, and the Tridion Developer Summit!
I've mentioned a few times before that you can run your own sessions on new releases or specific features. Consider getting help from SDL for general training, specific Sites 9 courses, or perhaps custom training to create your own boot camp session by reaching out to "learn @ sdl.com."
We're also looking forward to sharing this information more broadly. Similar to the earlier Sites 9 and Beyond webinars, we plan to make the Sites 9 release more specific and tangible through another set of technical Webinars over the next few months. I definitely encourage technical implementers and project manager to watch and share these videos to learn about new features. Additionally, Enterprise Partners can join the partner channel.
Be sure to also take advantage of the Developer License when Tridion Sites 9 is released later this year. Your extensions and examples are welcome on the SDL Appstore for content management or as feedback and Pull Requests for the Digital Experience Accelerator (DXA).
That's at least my history with boot camp sessions. These sessions can introduce you to new features, new people, and perhaps even open up career opportunities. For me, my first Tridion boot camp convinced me to join Professional Services. The next two introduced me to Product Management. And after running a few, I'm starting again with a different more business-focused audience and with more than just Tridion Sites. Despite being pre-release software, we've found ways to still share more both from the event itself and now after through webinars.
Finally, we'll bring all of this together as part of the bigger Tridion DX story at the Tridion Developer Summit! It's an awesome time to be a Tridionaut to learn and share more about Tridion Sites and the Tridion DX suite.