Hi everyone,
We are excited to announce the release of the Connect tab in Language Weaver. Connect offers a simplified access to our out-of-the-box extensions, to new and updated developer resources and our user community. Explore the new section of the portal to find everything you need in order to connect external applications to Language Weaver.
Extensions
Our extensions offer a range of existing integrations and connectors to many popular applications such as Microsoft Office, Relativity, ServiceNow and many more.
Connect simplifies your access to Language Weaver extensions:
Account admins will find all available Language Weaver connectors under Connect > Extensions. We invite you to browse the list and download the ones you'd like to use.
In Connect > Extensions users with the Translator and Linguist roles will only see the extensions that account admins enable for them. Let's take a closer look into how it works:

As an account admin, chose the extensions you want to give access to your Translator and Linguist users from Settings > Extensions: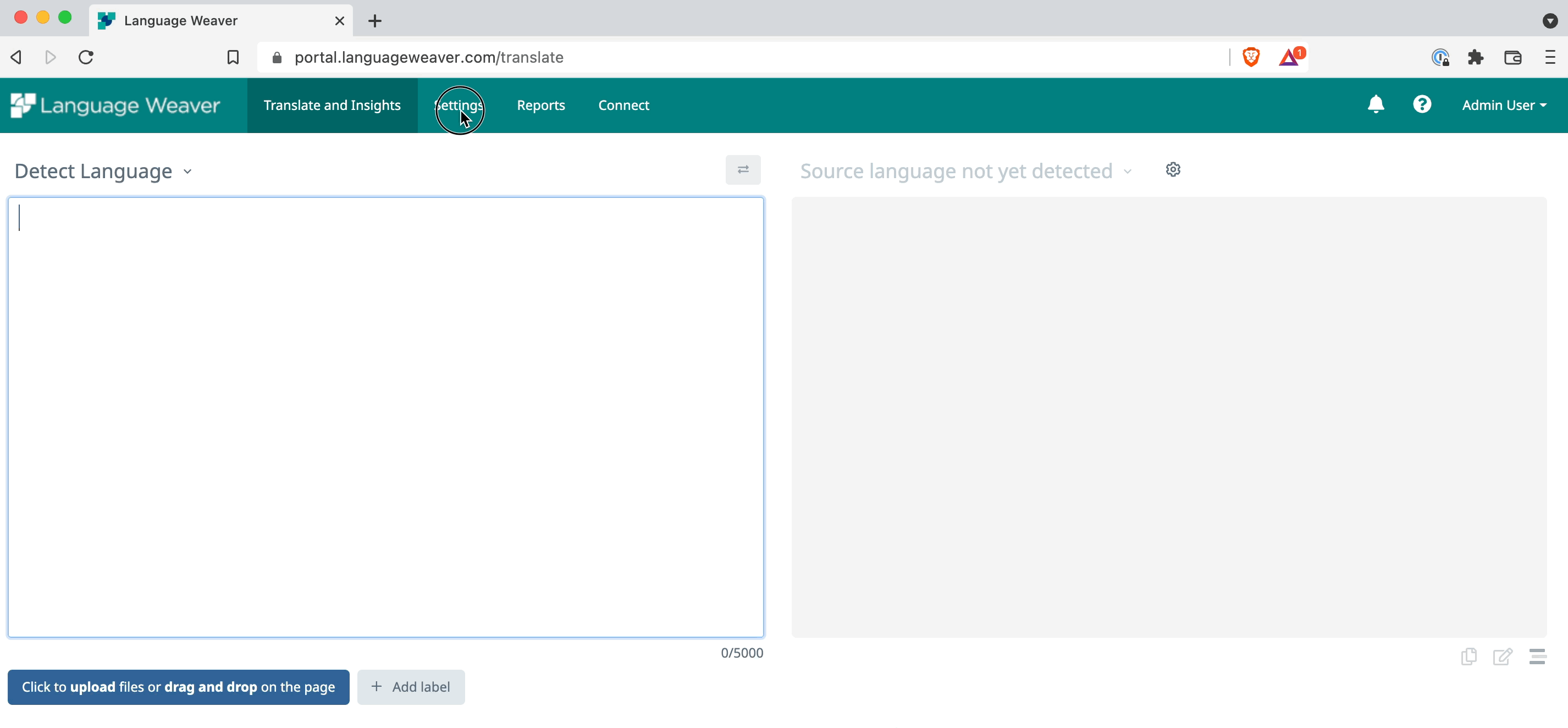 In our example below, the Translator user will find in Connect > Extensions the Language Weaver extension for Google Chrome, enabled in the previous step by the account Admin:
The Language Weaver Developer Portal
Visit the Developers section of Connect to find new and updated resources designed to help you easily integrate Language Weaver into your workflows or proprietary systems:
Our API documentation now includes cURL code snippets for all API endpoints to help you easily test all the API functionalities and visualize the server responses.
We also created a new Postman collection covering the Language Weaver API. Import the collection into your Postman app and interact with our API to get a sense of its powerful features.
The Language Weaver User Community
The Language Weaver portal now also includes easy access to our User Community! Visit the RWS Language Weaver Community to stay current on the updates we have made and are continuing to make to the product, get support and interact with your peers.
We encourage you to subscribe to the community to receive email notifications every time new content is posted.
What's next

:

The Connect hub will be updated on a regular basis with new developer resources and extensions designed to help you get the most from Language Weaver. We hope you enjoy the new feature and we are looking forward for your feedback and suggestions. Stay tuned for more!